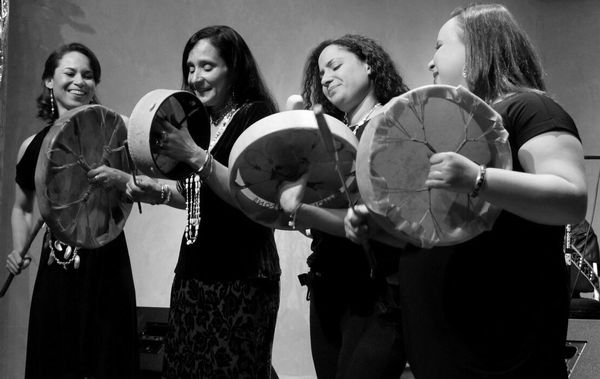 Ulali Project features Pura Fé (Tuscarora), Layla Locklear (Tuscarora), and Charly Lowry (Tuscarora.) Founded fifteen years ago with original members Pura Fé, Jennifer Kreisberg, and Soni Moreno; Ulali Project is the first Indigenous women's group to create their own sound from their strong traditional roots and personal contemporary styles. They have created a new genre of Indigenous Music and inspired the creation of other Indigenous women's groups. Known for their unusual harmonies and wide vocal and musical range, Ulali Project's sound encompasses an array of Indigenous music including southeast choral singing (pre-blues and gospel) and pre-Colombian (before the borders) music. With their beautiful yearning and powerful voices, they drum, rattle and stomp. Breaking the stereotypes of Indigenous women, Ulali Project is political, romantic, and humorous. Their live performances, which uniquely address Indigenous struggles and accomplishments, are energetic, and informative. 
Ulali Project has traveled extensively throughout the U.S., Canada, and abroad performing at venues like Woodstock 94, the 1996 Olympics in Atlanta, the 1997 Smithsonian's Folkways 50th Anniversary Gala at Carnegie Hall, the Kennedy Center, Lincoln Center, the 1998 WOMAD Festival in Seattle, the 1998 New Orleans Jazz & Heritage Festival, the Hartford1999 World Festival of Sacred Music at the Hollywood Bowl, Red Solstice 2000 in Montreal, the Britt Festival 2000 in Oregon, V-Day 2001 at Madison Square Garden, the 2001 New Orleans Jazz & Heritage Festival, the 2002 Olympics in Salt Lake City, and a wide range of other venues, benefit performances, and festivals. They have performed abroad in Germany, Italy, Brazil, Corsica, Portugal and Japan. 
Ulali Project is gaining broader mainstream recognition. At the end of 2002 you could hear them on the release of "1 Giant Leap. " In addition they were one of three featured artists on New York's nationally televised arts forum "Egg the Arts." They have appeared on the Sundance Channel, and at the Santa Fe Summer Music Chamber Series. Recently, Ulali Project appears in the 2017 documentary Rumble: The Indians Who Rocked The World. 
Project travels throughout Indian country (U.S., Canada, Central & South America,) visiting communities, singing for the people, exchanging songs, and maintaining strong ties. They often perform at pow wows and can often be heard on Native radio stations throughout the U.S. and Canada. They were each awarded the "Eagle Spirit Award" at the 25th Annual American Indian Film Festival in San Francisco, CA in 2000. In addition, they were each one of several winners, of the "Native American Women's Recognition Award" (NAWRE) presented by the Friends of Ganondagon. 
Contact info: 
Celeste Di Iorio 
Maple Street Music Agency 
celeste@maplestreetmusicagency.com 
www.maplestreetmusicagency.com